Repair and maintenance of client and server
Your professional computer service in Berlin Kreuzberg
Your computer is defective, does not start up, "does weird things", is infected by a virus? LuxPC is the right contact for computer repairs. Thanks to our years of experience and continuous training, we are able to diagnose and fix your problem. Your hard drive is defective, have you accidentally deleted important data? Data recovery is also part of our portfolio, regardless of whether it is a USB stick, the memory card of your camera (e.g. SD card) or other data carriers. And should your computer no longer be repairable or the repair would not be economical, then LuxPC is your supplier for network technology, complete PC systems and components such as storage media and drives, as well as scanners, monitors, printers and other accessories. Our good contacts and friendly cooperation result in shorter distribution channels and quick deliveries. We pass on the resulting cost savings to you. See for yourself ! Make use of our extensive know-how and benefit from our innovative solutions. Whatever you buy from LuxPC: the latest technology and the best quality are a matter of course. Of course, you can also purchase the software you need from LuxPC. Our offer includes all common operating systems and user software, as well as virus control software and firewalls.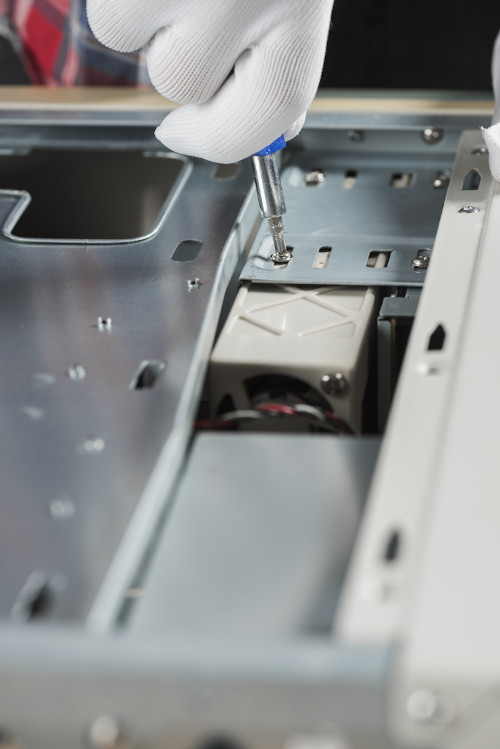 Like all technical devices, computers can be defective. Be it that you get a blue screen when starting, your hard drive breaks or that the fans on your PC have become extremely loud. All of these are problems you don't have to live with, because in such cases we are your professional contact for PC repairs in Berlin and the surrounding area. The tools, devices and programs necessary for a successful computer repair as well as regular training enable us to get your computer working again. Be it at your site or in our workshop in Berlin Kreuzberg. Our computer repair service also procures spare parts at short notice if necessary and installs them professionally in your system. When it comes to computer or laptop repairs, trust professional specialists from Berlin. First we diagnose your problem in detail, whether it is temperature problems, data consistency / condition of the hard drive, virus attack, misconfiguration, missing updates, incompatible software or drivers and, if possible, back up your data. In unclear cases, you will receive various solutions from us, naturally combined with an objective assessment of whether a repair is in a reasonable relationship to the costs. In cases of computer repairs or laptop repairs in Berlin and the surrounding area, we are there for you and have been since 1999. Call us: 030 922 156 17
Data recovery from broken hard drives, USB sticks, memory cards
There are many reasons why a hard drive, your USB stick or the memory card of your camera (e.g. SD card) can be damaged, be it a power failure, a defective computer power supply, read / write errors on the hard drive, physical causes such as: "external Hard drive dropped "or plain wear and tear. A common effect is that the hard drive is no longer recognized, important data has disappeared or is no longer displayed and you no longer have access to your pictures, music, documents or videos. Even if you have accidentally deleted data, this does not mean that it is really gone. In many cases, your data can be saved again. We can also access defective hard drives using special software and techniques and try to secure your valuable and unique data. They can then be backed up to a new device or a new hard drive and your data is safely stored again. Of course, we would also be happy to suggest a concept for a data backup so that you do not even get into such a situation!
Virus, worm and trojan removal
Computers are exposed to a wide range of dangers primarily through the Internet (but also often enough through USB sticks): viruses, Trojans, malware or spyware to name just a few. Quite a few malware is harmless or is detected and deleted by a good antivirus program. Nevertheless, your computer system can be infected by one of these malicious programs. An infected computer can pose serious security risks. Be it spied credit or online banking data, private photos, company data on the Internet or the loss of data. The best protection is a well-secured system that is monitored by an effective antivirus program and existing security updates are regularly imported. Up-to-date virus protection that is tailored to your needs doesn't have to be expensive. The following criteria are important: regular updates, a high detection rate and sensible use of the resources that the computer makes available. We would be happy to advise you on finding the right virus protection for you. In spite of all caution, it can happen that your PC is infected by a virus. If this is the case, LuxPC is your contact. Our many years of experience in the removal of computer viruses and the fight against Trojans enable us to clean your system. Be it malware, spyware, viruses or Trojans. Helping people help themselves ! It is very important that the virus infestation is recognized quickly so that appropriate measures can be taken immediately and to keep the effects as low as possible. Current viruses often download their own updates from the Internet, thus arming themselves against antivirus software or sending data "home". You should therefore update your antivirus program immediately and then disconnect your Internet connection if there is a strong suspicion and conduct the entire scan of your system "offline". How do you recognize malware infestation? The following typical behavior in the event of a virus attack:

Computer suddenly becomes slow, does not start or reacts differently than usual

Windows does not start at all or you are asked to pay money (NEVER PAY !!!)

Your hard drive is working all the time, although there should be no reason to

The internet connection is very slow or does not work at all

You have a consistently high network load for no plausible reason

Data disappears or the look of your desktop changes on its own

Your browser redirects you to unwanted pages or you are constantly receiving advertisements

The security center constantly reports problems

Sending / receiving emails no longer works

If some or more points apply to you here, this may be related to a virus attack and we advise you to check your system immediately. If you need expert advice, we are at your disposal in the emergency service throughout Berlin, be it Charlottenburg, Wilmersdorf, Friedrichshain, Köpenick, Lichtenberg, Marzahn, Hellersdorf, Mitte, Neukölln, Pankow, Reinickendorf, Spandau, Steglitz, Zehlendorf, Tempelhof , Schöneberg, Treptow or at our home location Kreuzberg. Contact us without obligation.